AWARD WINNING AUTHOR, GOURMET COOK AND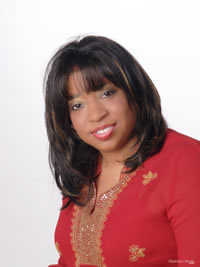 TV HOSTESS KIM ROBINSON
Get Out of the Kitchen and Eat!
By Kim Robinson

Lobster Grill

Boiling salted water
garlic salt
Butter melted
Lemon (squeeze into melted butter

Start your grill and set a pot of water to boil. Boil for about three minutes Long enough to kill the fresh crustacean Remove from water Some would rather decapitate rather than boil. Split Lobster down the middle with a sharp butcher knife and hammer right down the center so the tail is halved and crack the claw.

Brush with lemon butter and place on hot grill face down still in the shell turn after 7 minutes brush with more lemon butter season with a little garlic.

When meat is white it is done. Enjoy with drawn butter and lemon.

Shrimp Shishkabobs

Hot Grill

Cherry Tomatoes
Shrimp Shelled and Deveined
Cubed Pineapple
Bell Pepper cut in triangles
cocoanut milk
skewers

Layer all ingredients one on top of the other using skewers and place on grill and brush with cocoanut milk turn often should be done in about 10 minutes when shrimp is no longer glassy.
MOTHER MYRIAM MAYTORENA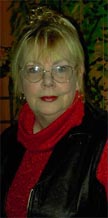 AUTHOR, LIFE COACH, MISTRESS OF METAPHYSICS
Coping with Crisis
By Mother Myriam Maytorena

"[W]e must believe in ourselves or no one else will believe in us; we must match our aspirations with the competence, courage and determination to succeed." -- Rosalyn Sussman Yalow, US medical physicist.

What is stopping you? What is stopping you from achieving your dreams? What is stopping you from finding love and happiness? What is stopping you from being content?
What is keeping you from getting that job you want? What is keeping you from making your business a success?

Most of us in life have times when what we are working toward and trying to manifest seems to be stopped. Blocked at every turn we reach a moment of intense agony when we cry out to spirit and to our inner self: What is stopping me?

It is these moments that we often want to give up. We question should we just drop what we pursue or should we continue in spite of the barriers that seem to get in our way. We question if we should continue to hope.
"Hope is the feeling you have that the feeling what you have isn't permanent." --Jean Kerr

If you feel that where you are now is not a permanent state and that you are going to see your situation turn around, you have hope. Now you might not in this moment know how you are going to find the answer, but in your heart you believe that you deserve all that life has to offer, than hope will pull you through this moment.

If you are feeling discontent and blocked and you are questioning then the situation is not permanent and things are going to change, and, I know from experience they are going to change for the better.

Recognize that these stopping points when you feel blocked at every turn are only moments when the universe has decided to make a big turn in your life because you have chosen to manifest a better way.

Our lives are often like big ships cruising toward a distant shore. When we decide to change our direction and head for another exciting new land, the big ship can take time to turn. It is not like we are light little feathers blown about by the wind but we are complex and wonderful systems that most of the time go on automatic pilot. When we take control and navigate a new direction, all kinds of systems, beliefs and ideas have to be changed.

If you have done all that you can do... If you have set your course to a new direction... If you know where you are going but the universe hasn't revealed how and you seem somehow stuck in the water... Remember, the stop is an illusion. You are just turning your life around slowly.

One thought at a time, one affirmation at a time, one phone call to follow up at a time, one word at a time your ship of life is setting a new course.

Continue to have hope and know that the universe supports your new course of action.
Today: Renew your hope and know that you are not stopped you are just turning slowly toward a bright new horizon.
Love always in all ways
Mother Myriam

AUTHOR AND HIGH PRIESTESS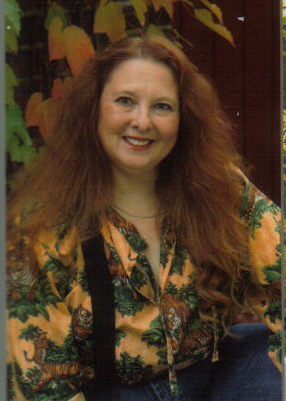 THERESA CHAZE
Oscar

By Theresa Chaze

I would like to tell you about Oscar. First you must know I am the cat magnetic of the sub. It is not unusual for a half dozen cats to be lurking around the outside of my home for a snack and scratch. Oscar appeared over two years ago. Long blond fur and sky blue eyes, Oscar nervously ate from the dish. Unlike most, he always ran when he saw me. Oscar had extra toes on his front paws and battle scars on his ears from many fights, but his eyes were clear and blue as a summer sky. What little I could learn from the neighbors was that his owner had abandoned him. Many thought he was sick because his long hair had matted from lack of care and was falling out in clumps. Fearfully they chased him away. I don't know how long he was on his own before he found his way to my door. It took me almost two years of patiently feeding and talking to him from a distance for him to trust me. Gradually he stopped running. Instead he would watch me from beneath the lilac bush or from under the porch. The distance between us became shorter until one morning I quietly opened the back door and tossed out a piece of baloney. He loved it enough to allow me to walk on the back porch and give him more. It was how I won him over and how he got his name.

In spring the mats in his fur would shed it off in clumps and by fall his fur would grow back. As he began to trust me more and with the help of thick slices of boloney, I was able to help the process by cutting the loose pieces off. It was then I realized just how malnourished he was. I increased his food supply and wormed him with over the counter meds. Slowly he started to gain weight and his ribs no longer were showing. Instead of running from me, he started running towards me. He would be there curled up on the back porch in the morning when I awoke and appear out of the darkness when I got home from work every night. We would sit on the steps chatting and purring. He had started looking inside the house when I opened the door as if he was considering domestic possibilities. The more he trusted the cuddlier he became. Although he still didn't like being picked up, he liked lying across my lap and having his ears scratched. His fur was starting to fill in, but he still looked like he had a poodle cut. His back and stomach were tanned from being exposed to the sun most of the summer. His legs still had a few smaller mats but his new fur was tangle-free.

At the time adopting him was out of the question. I already had seven living with me; one of which still had his tail out of joint. My goal was to socialize him and put him with the local animal rescue system where he would get medical attention and grooming in preparation for adoption. At the time, he still had doubts about me; most likely from his previous experiences with humans. The rescue group had an over flow of cats so there simply wasn't room for him at that time, but I continued to talk on his behalf. It was the end of August and the nights were already beginning to cool. I began planning how I would give him a warm place for the winter. I was debating on whether to cut a hole in door of the shed or to build him a box on the back porch. The back porch won and I started designing it.

One morning Oscar wasn't at the bad door. Nor did he appear that day or any day after. Other cats appeared for attention and a snack, but Oscar had disappeared. I asked around the neighborhood; no one had seen him. I walked for weeks around the sub, looking for him. There was no body along side the road. He had simply vanished. It's been almost a year with no sign of him. Hopefully, I was able to help him regain enough trust in humans so someone else was able to adopt him. I pray that his newly regained trust wasn't used to do him harm or if it was that a curse be rained down on the person responsible.

I still don't understand how anyone could abandon or do harm to such a beautiful soul. With a little care and attention, he would have been as beautiful on the outside as he was on the inside. How often are the damaged ones shunned because of fear of contamination or just plan ignorance? Oscar's scars didn't prove he was overly aggressive, but were a tribute to his will to survive. His mats didn't make him ugly or infectious, but revealed the ignorance of the ones who abandoned him and those who hurt him out of fear. He did harm to none, yet he received more than his due of hunger, pain, and abuse.

Oscar's story is a reflection of how many view life. Instead of looking past the facade, at who the person truly is they make the snap judgment. It's quick and easy with very little thought process involved. Beautiful automatically equals good, while ugly is always evil. Those who look, believe and judge consider themselves the righteous, while all those who are different are evil and fair game. These people pigeon hole others into simple little boxes, which fit into their belief system where the weaker are easier to dismiss.

How often have you looked a homeless person as a loser who didn't try or a persons who simply didn't matter? Is it possible that there was a reason they buckled under the strain of modern life? It could be medical, emotional, or spiritual. How often did you judge another by their speech patterns, style of dress, or even the jewelry they wore? How often did you bother to look through the physical facade to see the beautiful soul inside?

Each being we meet whether furred, scaled or human is a teacher and a student. How we react to them is a reflection of how we feel about ourselves. If we truly love and respect ourselves, we share that with everyone we meet without judgment. However, if we think of ourselves in a negative way that is also what we share with the world. Although it is not our job to save the world, we can make a difference in our own little corner. The Muslim religion believes that to kill one is to kill them all, while to save one is to save all. Every kindness you do brings more light and love into the world. The reverse is also true; every harm we cause makes the world a little darker.

In Oscar's life, I was a kind word and a full belly. Whether he is alive in someone else's care or if he has crossed over, for a time he had someone who loved him. Although I couldn't control his destiny, I made the road a little easier for him to walk down. We can not control others' lives through word or deed, but we can offer them support and leave it is up to them to chose to accept it.



Oscar could have continued to run away from me. I still would have left food and water for him. But by releasing his fear and choosing to trust, he found a friend with an open heart and unconditional love to give. Where ever he is my blessings and love go to him and with him.


HUMORIST AND TOASTMASTER

RON BERRY!
The Store

By Ron Berry

Back in the old days there were general stores. The old days were about 100 to 150 years ago, anything earlier than that we'll call, oh, I don't know, historic I guess. In

those general stores you parked your vehicle, either a horse or a donkey right out front!!! What a concept, no
waiting or driving around the block to find a place closer.

Once you exited your vehicle you walked in to the store. Now those were the hard times because you had to carry everything by hand, those three and a half wheeled carts hadn't been invented yet. That really didn't make much difference since the stuff was either behind the counter or in barrels. Another minor difference was that you didn't just run into town for a loaf of bread or a gallon of milk.

Our first assumption is that you lived on a farm or a ranch. If you lived in town you would naturally have taken the most common conveyance to the store, your feet. Ok, let's travel back in time to the ranch.

The sun is coming up over the hills (mountains, trees, you pick your own area) and you've already got the herd fed and the cows milked. (see, I told ya- ya don't buy this at the store!). Now you already know this is the big day of the month where you take the little lady into town to stock up. Your first stop is to get the horses out and hitch up the wagon. It's now time to stop at the well and wash up. The smell of bacon and eggs draws you into the house. Nothing like a hearty breakfast to start the day and what makes it even better is that the wife just gathered the eggs from the henhouse.

You help the wife up on the wagon and head into town. Town is an hour's drive with a two horsepower drive system. As you get off the wagon and help her down, you agree to meet back at the wagon in an hour or so. You head off for the blacksmith to pick up those new shoes for the team. Meanwhile, in the store the Mrs. is checking out the latest gingham. At the counter she orders a few sacks of wheat and a barrel of pickles. Oh what the heck, a few yards of cloth to make some new clothes. It is summer.

On your arrival back at the store, the Mrs. and the storeowner are ready to load the wagon with barrels and sacks. Now these aren't the plastic ones we put used cat litter in nowadays. No siree Bob, these are made out of cloth and can be used as dishtowels or dresses when empty.

Moving ahead in time, along comes Henry "Assembly Line" Ford. This causes a need for roads. Along with roads come people. The general store concept is nice, but there's diversity now. Specialty shops come in, such as the Grocery store! You can also go to a store to just buy ready-made clothing or medicine. Wow! What a concept. And with the advent of the automobile, the monthly trip to town can be done every week!

"Hey Ma, they gots this thing called a ice box! They have milk in jugs!"

Yes, it was true, now you could keep cold things longer. So much had changed. The son of the general store owner now had his own store, he called it a supermarket and there was a special place just to park the automobile. Yep, the parking lot had arrived.

Meanwhile back at the ranch...age tended to creep up on ya. Fortunately so did technology. Milking the cows had always been hard work, but since electricity came to the ranch, a new fangled device called a milk machine had made things much easier. Plug it in, attach the unit to each cow then grab a cup of coffee and watch the milk flow into the big collector. Ok, it wasn't exactly like that but you get the idea. It was a "look ma, no hands" operation.

You had also added an icebox to the house so food could be kept longer. Now the monthly trip to town could be done every week.

Bear in mind that our ranch-of-the-past here hadn't been totally modernized yet. However, our progressive thinking rancher was slowly moving into the modern era. The town was also moving forward, but a little faster. They had to, otherwise the ranchers and town folk couldn't. So, adding to our "specialized" stores were now added the gas station and car dealer. The town was growing.

Now when the rancher and his wife headed into town to stock up, it was done on a weekly basis and they took the truck. Indeed, the times they were a changin'. Instead of taking the horse to the shoes (the blacksmith), the rancher how took the shoes to the horse. After picking up the horseshoes, they could stop in town for a bite to eat then browse the shops that had now emerged. By this time Sears had a catalogue store or maybe even a retail store. The general store was now a hardware store and new clothes could be seen and purchased at Millie's.

Shopping done, all that was left was the food. They headed over to the grocery store. As they entered the front door the whiff of fresh food assailed the nose. Now they could purchase milk and eggs instead of relying on the cows and chickens at home. Over in the butcher's section they could get fresh cut beef, pork or chicken. They were getting up there in years so why do all that work when the grocers could order it in from the big places that specialize in it? Once a week groceries were paid for and bagged (paper sacks now), all that was left was to load the truck.

Time marched on.

Eventually the weekly trip to town revealed just how much things can change. The hardware store was now part of a national chain. All of the small specialty stores like Millie's Clothes, were now overpriced boutiques. Our friendly little grocery store tripled in size and was now a Supermarket! Everything you want -under one roof. We have gone full circle. In less than a century we have gone from the general store to the super general store called the supermarket. What goes around comes around.

But wait. Look at that! We have gone from a general store in a small town to specialty shops, to the all in one general store called a supermarket to: OH MY GOODNESS!!!!!!! We now have a town in a box!

Walmart has arrived.
COLUMNIST AND MASTER GARDENER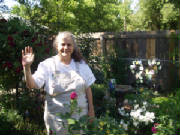 BARBARA CARVALLO
A Byzantine Environment

By Barbara Caravallo

What is it that makes some places, some groupings of individuals convoluted to the point of toxicity? What is it that those of us who feel things intuitively and deeply feel in such an environment?

Speaking for myself I can say that there is a profound sense of disturbance both internally and externally. There is also trepidation, bordering on panic at times. A dear friend once told me that she believed these situations brought up buried survival issues from years and lives past. Survival issues which stem from abandonment or brutality.

In my estimation the most important thing is to avoid abandoning or brutalizing the self in these circumstances. It is very difficult, but if one can stand perfectly still and look into the disturbance or the panic and see what is behind them, it becomes possible to, as National Lampoon once said, "walk placidly amid the noise and waste."

I have a guide who walks with me in these times. I don't know where he came from, but since I am an ardent fan of the films of the 30's and 40's he probably stepped out of one of those. His name is Puggie, and he is pure Film Noir with his felt Fedora pulled low over his dark eyes, his stained tie, rumpled suit coat and stubby legs. He chews a cigar and says things like, "Well, cut my legs off and call me shorty" or "He had a good face, but you could tell he had been used badly, like an encyclopedia in a demented family."

Above all, Puggie is fearless. When he turns up with his slow stare, sharp tongue and Raymond Chandlerish bad manners I feel less overwhelmed by the dysfunction and chaos around me. There is something to be said for a little brashness and noncompliance. Particularly, when you are confronted with individuals who think loyalty means enabling and service is synonymous with servitude.

I first met Puggie when I was working for an extremely abusive physician in Denver. Not only did this ignoble physician drink too much and refer to his female employees as "my girls" (none of us were under fourteen mind you) he had a foul mouth and a vicious temper. Most of the women in the office were afraid he would strike them. Rumor had it that he had done just that once or twice.

One night I dreamt of Puggie. In the dream he said, "Don't put up with this crumb"s garbage, it ain't good for him." When I woke up I couldn't imagine why I had dreamt of such a strange little man, or what he was talking about. I had watched Bogart in The Maltese Falcon before going to bed and figured that had something to do with it.

That morning I arrived at the office to find out that I had double booked an appointment. Several of the women warned me that the doctor was very angry. I took my seat at my desk and waited. Within ten minutes he slammed into my office and threw the scheduling book down in front of me. I jumped to my feet and away from him instinctually.

"Moron," he shouted. "Can't you read?"

I was terrified and suddenly Puggie was next to me. He had his hands stuffed in his pockets, legs akimbo, big belly thrust forward and Fedora tipped back off his forehead. We spoke at the same time, "I can read you bub. Need a drink don't ya?"

The doctor's neck veins began to pulsate, and his face turned bright crimson when he snarled, "Who do you think you are?"

"Who do I have to be?" Puggie and I shot back.

Without warning he slammed his big fist down on the desk in the middle of the scheduling book.

"That's pretty good," Puggie and I laughed. "Can you do it with both hands like this?" I slammed both of my little fists down on either side of his.

"You just lost your job."

"Yeah, like there aren't two-hundred of you quacks looking for slave laborers to staff their offices." Puggie and I put our fingers right in his face, "I&'ll have another job before you have your next drink."

I picked up my backpack and turned away. Some of my coworkers were looking out from behind doors shyly. Puggie and I gave them the thumbs up.

My knees were shaking and my stomach turning as we started down the hall toward the elevator with an easy stride. "Chin up kid," Puggie whispered. "Don't let him see you weaken."

We rang for the elevator and waited a second. As the doors opened and we stepped in I glanced over my shoulder to see the doctor standing in the doorway looking as if he were about to cry.

And that afternoon, I got another job!

Puggie has been a good friend to me and been with me in many tough situations. I sometimes wonder if he is real, flesh and blood, but that is impossible. Maybe Puggie is my guardian Fairy. Maybe the Goddess lets us select our guardians, and knowing my adoration for Sam Hammett, Raymond Chandler, Humphrey Bogart, William Powell and all the tough guys of the 30's and 40's, She sent Puggie. A real life tough guy from a black and white world of up-from-under-shots and deep shadows. A guy who has his own sense of right and wrong and a clear idea of his personal worth. That must be it, don't ya think?
AUTHOR, PRODUCER AND CHILD EXPERT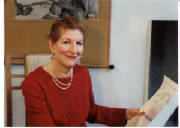 LILLIAN CALDWELL
Quantum Parenting
Parental Coping Principles
By Elizabeth Caldwell

Got a teen? Having trouble coping with his/her behavior? Relax! There IS a way to cope with teenage behavior. How, you ask? By following these six (6) basic coping principles: Authority, Direction, Choice, Freedom, Communication, and Relationships.

When do you start implementing these principles? As soon as you can - at six months of age. Why? Because the sooner you get started, the sooner you'll see how consistency, discipline, routine, and breaking-in new patterns of behavior will help your little one grow into a confident, communicative and responsible adult. Isnt that what you, and every other parent, grandparent, relative, family member and other adults expect of any child becoming a pre-teen or teenager?

In my series on Quantum Parenting, I will break these six principles down. I will begin with Authority. What is it? Why do teenagers have problems with it?

In one sense, authority as conceived by parents and other adults is the power to influence or command thought, opinion, or behavior. It's freedom granted by that particular individual to another individual. For teenagers, authority is the end-all to everything. When teenagers are children, they see their parents and other adults as the omnipresent God who issues commands and demands that these orders be obeyed without mutiny or rebuttal. As they grow older and graduate from elementary school to middle school, these children start questioning their parent's guidance, wisdom, and experience.

These middle school children are in the transitional years of their growth. They can no longer accept orders without questioning them.

This means they may start arguing with the parent or other adults about why they must obey without reason or forethought on their part.

For example, your pre-teen might question their bedtime hour, and argue that Joe/Jane Bloe down the street doesn't go to bed until ten. Parents must look directly and firmly at their pre-teen and tell them, you don't care what time Joe/Jane Bloe goes to bed. Thats their parent's responsibility.

Your responsibility as you see it is to make sure that your pre-teen goes to bed on time, gets plenty of sleep, so that they don't fall sleep during classroom time or are too tired to get their homework done.

By the time the middle school student reaches the full bloom of teenage-hood, they question everything the parent or adult tells them to do. Many teens may tell their parents to ask them to live up to a particular responsibility rather than ordering them. Parents are often reluctant to accept that type of reasoning or logic from their teenagers.

The teen may see another side of the order that the parents and other adults may not see or refuse to see.

An example of this might be the parent or other adults order them not to drive while intoxicated or under the influence of cold medicine. The teen questions the parent's objections when the teen sees his parents drive home while intoxicated or under the influence of cold or allergy medicine. It's very difficult to draw a line of responsibility and honesty when the parent or other adults exhibit the same or similar behavior. Trust the teen to find the unfairness of this order and be prepared to have them throw it back into your face.

Authority is a two-edged sword. It's a necessity that can get a younger child to obey without questions, but it can also antagonize an older child if they feel that the command or order is given unfairly.

Many parents do find common ground with their teenager if they keep the lines of communication open. Instead of becoming angry at your teenager for disobeying a direct order, find out why they didn't obey you. For example, your teenager arrives home at three in the morning instead of being home at the agreed upon hour of one. Don't scream, rant, or rave. Sit down calmly. Keep your lips buttoned and listen to what your teenager has to say in their defense. Many times, teenagers don't think. They're impulsive. Their judgment is weak or they ignore the obvious. Listen to their side as I did one evening when my son walked in five hours after curfew. He explained he would've been home earlier, but he'd spent three hours in the police station for speeding and talking back to a policewoman who didn't believe him when he told her about racing home to beat his curfew. Lesson learned was a two hundred dollar speeding ticket and license suspended for six months. The judge wanted to make an example out of my son for lying.

I agreed with my son that life was unfair. I didn't excuse him. He could've called home so that he didn't have to speed. He didn't think of it. He could've stopped at a pay phone. He had no change. He did learn his lesson. For six months, he biked to work, school, and the library. He and his date biked to the movies..

Did he learn his lesson? Sort of. Sometimes he still doesn't think through his actions sometimes, but he did learn to call home when he ran late. He also learned to call his date's parents, also just in case things got out of his control.

Authority...it makes or breaks a teenager. Think about it. Authority. How well a parent or other adult deals with it also determines how well your pre-teen or teenager deals with it.